Get a Surfer Body Without Ever Getting Wet: Surfset Fitness
Ever wish you could have get that lean, toned surfer physique, all without having to get wet, squeeze into wet suits, or you know…actually ride waves?
Surfset work-outs are here to deliver that pipe dream.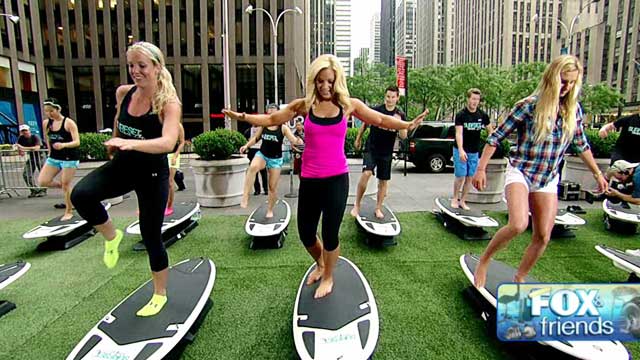 For $550, you can buy their custom board (that is made in America) that comes with a contraption that lifts it off the floor, so it simulates what it is like to balance on waves throughout the workout. In NYC, an East Village fitness studio offers classes for $32 per class but the co-founders have expanded across the country.
The idea for Surfset was developed by a husband-and-wife team, Mike and Sarah Hartwick. Mike loved how surfing defined his body but didn't always have access to the ocean, so came up with the prototype. Sarah is a personal fitness trainer who developed the Surfset routine that is now be implemented in the 180 Surfset locations.
The couple was able to expand after receiving a $300,000 investment from Mark Cuban after they pitched the idea on Shark Tank.
The workout boats lean muscled results, core strength, and total body toning. If you are looking for a way to mix up your workout routine, Surfset may be worth a try — especially for the East Coasters who harbor secret fantasies of being West Coast surfers.
GoBe Groups is available on iOS and Android.